Best 5 Solar Battery Backup in 2023: What Is, How It Works, and More
What Is Solar Battery Backup And How It Works
Gone are the days when homeowners relied on traditional fossil-fuel-based backup systems like gas-guzzling generators. With the advent of solar technology, people prefer solar generators to keep the lights on when power goes out. The solar battery backup in the generator stores clean, safe, and renewable energy generated by the solar panels.
When intense weather knocks the power off, the solar backup battery system supplies the stored electrical energy to power all small and large appliances, including refrigerators, lights, microwaves, etc. In this article, Jackery picks the five best solar backup systems that will meet your power needs and budget preferences.
Who Should Get

 

a Solar Battery Backup?
In short, anyone looking to reduce their electricity bills, prepare themselves for power outages, or lower their carbon footprint should consider investing in a home battery backup solution. Some other reasons to invest in the solar power solution include the following:
Emergency Preparedness
Homeowners living in areas with frequent power outages, brownouts, or blackouts should consider investing in battery backup. As solar power stations use the sun's energy to work, they can provide a constant and reliable electricity supply when the grid is down.
Lower Electricity Bills
Many homeowners are tired of high electricity bills, and switching to solar energy to power home appliances can help you save money by reducing energy costs. These solar power stations work in tandem with solar panels to convert and store electricity during the day and power appliances during the night.
Reduce Carbon Footprint
If you are concerned about the high carbon emissions and their negative impact on the environment, a solar battery backup solution is all you need. Unlike gas generators that use fossil fuels to work, solar solutions provide a clean and renewable energy source. Thus, it makes them environmentally friendly and helps you reduce your carbon footprint.
If you already use solar panels to produce electricity, investing in a solar power battery backup system will help you double its benefits. You can purchase a home battery backup without solar panels to produce the excess electricity generated. While solar power panels help you generate power during the day, portable power stations store it to charge appliances during the night.
Best Solar Battery Backups

 

in 2023
Jackery is a renowned solar product manufacturing brand offering high-quality solar panels and portable power stations. Below we introduce the five best solar battery backups in 2023.
Best Solar Battery Backup System For Home – Jackery Solar Generator 2000 Pro
Jackery Solar Generator 2000 Pro has a battery capacity of 2160Wh with 4400W peak power and 2200W AC power. The first-rate lithium battery can charge 96% of home appliances, including e-bikes, air conditioners, refrigerators, etc. The solar solution pack comprises Jackery Explorer 2000 Pro Portable Power Station and SolarSaga 200W Solar Panels. Using 6*SolarSaga 200W Solar Panels, you can charge the power station in only 2.5 hours.
Best Features
Fast solar charging solution.
Quiet and peaceful to power indoor appliances.
Press and play function makes it easy to use.
Customer Review
"This off-grid setup works excellently in the SW with abundant sunshine and is a great way to scale back on fossil fuels. We used this setup for our kitchen electric single burner for meals and an electric kettle for morning tea and coffee. The Jackery 2000 Pro charges quickly with (2) 200-watt solar panels. Very happy with it!" – Lorina M.
Best Solar Battery Backup For Work – Jackery Solar Generator 1500 Pro 
Homeowners and working professionals can choose Jackery Solar Generator 1500 Pro, built using the latest technology. Users get a pack of Jackery Explorer 1500 Pro, SolarSaga 200W Solar Panels, and an upgraded carrying bag for the power station. It has a battery capacity of 1512Wh that can charge eight devices simultaneously. Further, it's 20% lighter than other generators of similar battery capacity, making it ideal for short trips.
Best Features
Small in size but highly powerful.
Supports 95% of commonly used appliances.
Easy to use with a simple press button.
Customer Review
"I have four of these units, two at home and two at my cabin. They are perfect to run indoors to back up refrigerators and fans if the power is out and give you all the power you need in the backwoods to charge batteries and phones. I highly recommend them as a way to be worry-free in the backcountry or if there is a power outage." – Joshua O' Neill
Best Solar Battery Backup For Outdoor – Jackery Solar Generator 1000 Pro 
The Solar Generator 1000 Pro consists of a Jackery Explorer 1000 Pro Portable Power Station with a battery capacity of 1002Wh and Jackery SolarSaga 200W Solar Panels. With four solar panels of 200 watts, you can charge the power station in 1.8 hours. It is compact and features a foldable handle for easy transportation and storage during outdoor trips.
Best Features
High temperature and high dissipation protection.
Vehicle grade battery management system.
Top shock-resistant level 9.
Customer Review
"I purchased this power station after Hurricane Ian and lost power for 3 days. This power station is the perfect answer for emergency power that can be used inside during a storm (instead of a gas-powered generator that can't be used until after a storm has passed). I am comforted that I will be prepared if and when another Hurricane or storm comes to Florida." – FL Girl.
Best Portable Solar Battery Backup – Jackery Solar Generator 1000
Jackery Solar Generator 1000 is known to be one of the most portable and affordable solar generators. It consists of Jackery Explorer 1000 Power Station and SolarSaga 100W Solar Panels. The multiple output ports, large battery capacity of 1002Wh, and MPPT controller ensure a fast and safe power supply to a wide range of appliances, including laptops, mini coolers, etc.
Best Features
Weighs only 22 lbs with an easy-carry handle.
Suitable for charging essential home or outdoor appliances during power outages or trips.
Different charging methods are available for convenient recharging.
Customer Review
"With the use of this solar generator at our off-grid cabin, it has been a game changer. So nice to use electric lights instead of propane lanterns since the light is so much easier to read. We can now charge the phone and batteries for our tools. We have charged it up at home by plugging it into a wall outlet... doesn't take long to get it charged up again." – JosianeHeaney.
How To Choose The Best Solar Battery Backup?
Choosing the best solar battery backup system demands in-depth research and a basic understanding of the technology. In this section, we cover the crucial factors one needs to consider before choosing the best solar battery backup system for home or for outdoor trips.
Capacity
The capacity of a solar battery backup system refers to how much energy or power it can store. A solar system with high battery capacity can charge appliances for long hours before depletion. Jackery Solar Generators are available in different battery sizes and capacities. While Jackery Solar Generator 1000 or 1000 Pro are suitable for essential appliances, Jackery Solar Generator 3000 Pro is capable of charging 99% of home appliances.
Battery Life
The battery's lifespan depends on multiple factors, such as type, age, depth of discharge, and quality. Jackery Solar Generators are known for their long lifespan. Jackery Solar Generator 3000 Pro is the ultimate solar power solution estimated to have 70%+ capacity after 2000 cycles. That means the power station will perform its best until 2000 cycles, and then there will be a slight decline in performance.
Input/Output Ports
A solar power station with multiple input and output ports will ensure you can charge your appliances simultaneously. Therefore, while selecting the solar power station, analyze how many devices you wish to power at one time. Jackery Solar Generators feature numerous input and output ports, so you can simultaneously power different small and large devices.
Charging Options
If you want to reap the maximum benefits of a solar battery backup system, make sure it can be powered using multiple charging options. Jackery power stations, available in different sizes and capacities, can be charged in three ways: using Jackery SolarSaga Solar Panels, wall charging, and car charging methods. This ensures you never have to rely only on the electrical outlets to charge the power station during outdoor RV or camping trips.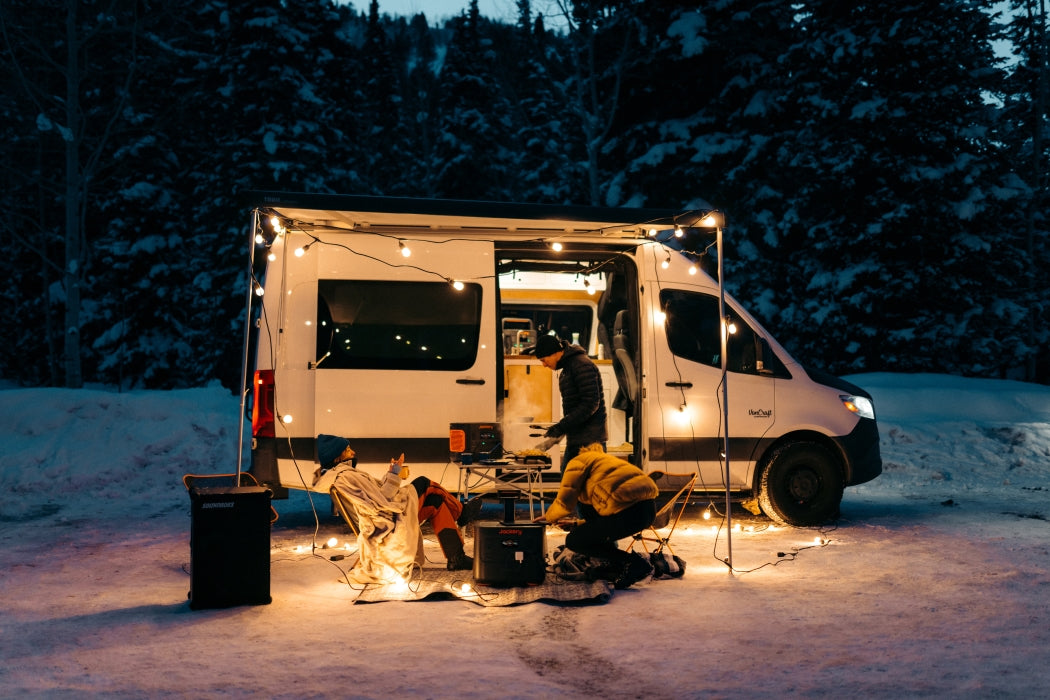 Safety
While deciding on the best solar battery backup system for your home, double-check to ensure it is safe. Some safety measures you must consider are minimal operation noise, a fully upgraded Battery Management System (BMS), temperature sensors, etc. A solar battery backup system with these features can safely charge low-power or high-power-consuming devices.
Solar Charging Time
Hundreds, if not thousands, of solar generators and power stations are available on the market. However, not all of them are the same. While some can charge appliances faster, other power generators take longer to power the same-capacity device. Consider selecting a power station that can quickly and efficiently charge devices for maximum benefits.
Weight
Given that you will be carrying the power station in your home or on outdoor adventures, opting for a portable and lightweight design is vital. Jackery Solar Explorer Portable Power Stations have a lightweight design and foldable handle. Hence, you can carry them anywhere without worrying about the heavy lifting.
Price
Regardless of what you buy, you will need to prepare a budget beforehand and look for the product that fits it. Buying a solar battery backup system is no exception. However, it does not mean you should choose the cheapest solar generator available. Instead, look for a solar generator or a home battery backup without solar panels (if you already have panels) with qualities that justify their price range.
Easy to Use
Finally, you must check if it's easy to use or requires technical knowledge. Jackery Solar Generators are far more convenient, easy to use, and straightforward than traditional generators. The simple press-and-play function ensures that anyone with zero technical knowledge can use it. They also have a pass-through charging feature allowing you to power devices while solar charging.
FAQs About Solar Generator For Off-Grid Living
1.
How long do solar batteries last?
Solar batteries are a critical component of the entire solar system. It defines how well or for how long the solar generator or backup battery will last. Generally speaking, lithium-ion batteries last longer compared to lead-ion and are highly preferred. Jackery Solar Generators feature lithium-ion batteries built with industry-grade materials that enhance their lifespan.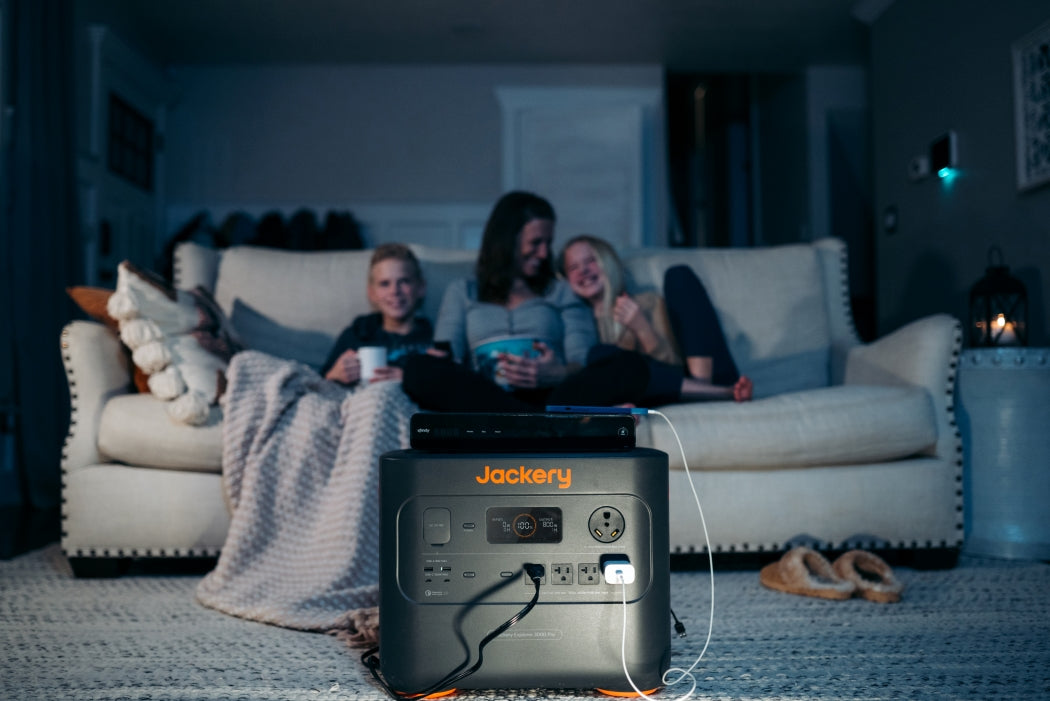 2.
How much is a solar battery backup?
The solar battery backup cost varies depending on size, capacity, quality, and battery life. Depending on the quality and size of the battery, you'll have to pay anywhere from hundreds to thousands of dollars.
3.
What are the advantages of using solar batteries?
The core aim of solar batteries is to let you store the excess electricity solar panels generate. These robust charging solutions can provide electricity for long hours, helping you to reduce reliance on the electricity grid. A few other benefits of a solar battery backup system include:
With a battery, you can store power during the day and charge appliances when sunlight is unavailable.
Harnessing the sun's energy lets you reduce your electricity bills.
As solar batteries use sunlight, it minimizes the use of fossil fuels and protects the environment.
4.
How many batteries does it take to power a house with solar?
The number of batteries required to charge a home will depend on your energy requirements and the battery capacity. For instance, Jackery Explorer 3000 Pro Portable Power Station and a few Jackery SolarSaga 200W Solar Panels can help you efficiently power a home that requires 2000 watts or more. However, if your power requirements are around 4000 watts or more, consider investing in two or more Jackery Explorer 3000 Pro Portable Power Stations and solar panels.
5.
Are solar batteries worth it?
Even though solar batteries require a high initial investment, they help you save money in the long run. Whether you're living off-grid or want to power your home during power outages, having a solar battery and solar panels lets you power appliances using the free and renewable sun's energy.
6.
Can I add battery backup to my existing solar system?
Yes. If you have solar panels in your residential space, you can consider investing in a home battery backup without solar panels. This will help you charge appliances without worrying about whether sunlight is unavailable.
Conclusion
Solar battery backup systems are a must-have if you want to power appliances using solar energy during camping, off-grid living, power outages, etc. They are an invaluable addition to the solar system with an aim to help you store power for later use.
Jackery is the leading solar product manufacturer offering premium quality and first-rate lithium batteries to charge appliances. Jackery Explorer Portable Power Stations are built with BMS technology, pass-through charging features, and temperature sensors to offer a safe and reliable electricity supply.
---